Overview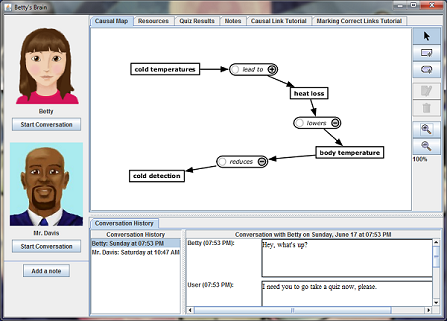 The Teachable Agents Project combines research from computer science, psychology, and education to develop computer-based learning environments. These environments utilize animated pedagogical agents to facilitate science learning and the development of self-regulated learning skills.
The use of animated agents allows us to extend the cognitive scaffolding provided by various computer tools and representations (e.g., searchable text, simulations, concept maps, etc.) by embedding them in productive and motivating social-constructive interactions (e.g., peer teaching, collaboration, and assessment).
Current projects include Betty's Brain, a learning-by-teaching environment for science learning; CTSiM, an environment for understanding science through a computational thinking framework; SimSelf, a relatively new project that focuses on teaching students about self-regulation and metacognition in the context of science learning; and C3STEM, a community-situated, challenge-based, collaborative STEM learning environment.
Our learning environments also include extensive logging of students' interactions with the system and agents. We are currently developing a variety of data mining techniques to use these data to make inferences about students' prevailing learning strategies. These techniques are both holistic, as is the case with hidden Markov model analysis; and temporal, as is the case with hierarchical and differential sequential mining algorithms.
On this site you will find information about our past and current research, publications, and team members. Additionally, our computer-based learning environments are available for download and use, free of charge. If you are interested in running studies with our software, or using it in a classroom environment, please contact the project leader, Professor Gautam Biswas at gautam (dot) biswas (at) vanderbilt (dot) edu.
Current Projects
Video and Media Coverage